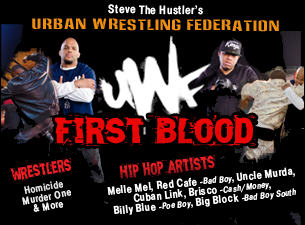 The Urban Wrestling Federation will crown their first champion at the June 3rd "First Blood" PPV taping from the Hammerstein Ballroom in New York City.
There will be a mini-tournament held, with the following first-round matches set:
* Homicide vs. Eddie Kingston.
* Rich (formerly Ricky) Ortiz vs. Rashe Brown.
* Facade vs. Bestia 666.
* Slyck Wagner Brown vs. Ricky Reyes.
The four winners will wrestle in a "4-way Street War" match to crown the very first UWF World Champion.
Other matches confirmed for the First Blood pay-per-view taping include:
* The SAT vs. Lance Lude & Brian XL.
* Willie Mack vs. Sabian vs. Famous B vs. Scorpio Sky.
Hip Hop Talent Signed for the UWF: Melle Mel, 40 Glocc, Cuban Link, Uncle Murda, Red Cafe, Russell "Block" Spencer, Gorilla Zoe, Brisco, Billy Blue, and Gun Play.
Tickets for the event are available at Ticketmaster.com.
We'll have more on the Urban Wrestling Federation's first show in in the coming weeks – stay tuned.